When we open our brand new Orangetheory Fitness studio in New Orleans Downtown, LA, members will take their fitness journey to the next level and get more out of life by taking on unique fitness challenges, like the Orange Voyage, that incorporate the water rower and other elements of our one-of-a-kind workout.
You'll never forget your first workout at Orangetheory Fitness in New Orleans Downtown, LA—or your first experience with one of our water rowers. Although it may be unlike anything you've done before, the water rower and other elements of our workout will soon become a familiar part of a fitness lifestyle you love.
From focusing on the power and timing of your strokes to perfecting your form so you're working your legs, core, and arms, you'll learn everything you need to know about proper rowing technique starting Day 1 of your fitness journey with our caring, attentive coaches at Orangetheory Fitness, coming soon to New Orleans Downtown. As you push yourself and improve your performance over time, you'll get more out of life.
Rowing is an essential part of the Orangetheory workout that works your whole body while getting your heart rate up. Our Orange Voyage fitness challenge, one of many challenges that will help us test what we've learned during Orangetheory workouts, is the perfect opportunity for members to generate more power and let their rowing skills soar.
Will you be able to row the distance? We already know the answer and know we can help you achieve your fitness goals. We'll be here to help guide you and send you off to a strong start the moment our studio opens.
This is How We Row
Rowing on water has its limitations: weather, location and time. At Orangetheory Fitness, it's always rowing season, and we are all about those watts!
At first glance, the rower can seem intimidating, but that might just be because you've never seen anything like it before. Although rowing is a high-intensity exercise, it's for everyone! The Orangetheory workout is scientifically designed for all fitness levels and pushes you to challenge and improve your performance.
With an attentive Orangetheory coach guiding your every move and encouraging you to do your best, you're sure to come out of each workout and fitness challenge feeling like a champion.
Orange Tip:

The order of your form is one of the most important parts of rowing! Our coaches will always make sure your form is in top shape so you can achieve results and avoid injury.
Row Around the World
Open studios across the Orange Nation are tracking their meters and their progress toward More Life during the Orange Voyage fitness challenge!
Throughout the month of November, the Orange Voyage challenge is metaphorically taking members' rowing across oceans and around the world. Just how far will members row this month? They're collecting stamps on a passport as they accumulate distance. Each of the destinations on the passport is home to an Orangetheory studio. The Orange Nation has gone global!
Ready, set, ROW!
The Orange Voyage departs at 0 meters from Fort Lauderdale—home of the very first Orangetheory Fitness studio!
This marks the beginning of the journey—and, like any big trip, a moment members are anticipating and excited for.
The start of any fitness challenge is a big moment. So will Day 1 of your fitness journey with us when we open. It will be challenging but life-changing, and with your future Orangetheory Fitness New Orleans Downtown family supporting you, you'll be sure to make a splash and accomplish all your goals.
Remember, anticipation and nerves aren't a bad thing! Like any journey, you may not be sure what lies ahead of you, but once you get to your destination, you'll realize you're exactly where you need to be.
Just Getting Started
Starting is the hardest part, but once you're here in the Orange Zone, you're going to love every second of it! Then it's all about getting into a good rhythm. The same is true when you get on the water rower for a challenge like the Orange Voyage.
When focusing on rowing, you can look at how many strokes it takes you to reach 100 meters. How many meters are you rowing per minute? Are you rowing with consistent form and technique? Are you rowing at a pace you can maintain or beat?
Once you've adjusted to a new workout or a new challenge, this is the time to get to know your body and what you're capable of. No journey is complete without learning something new about yourself.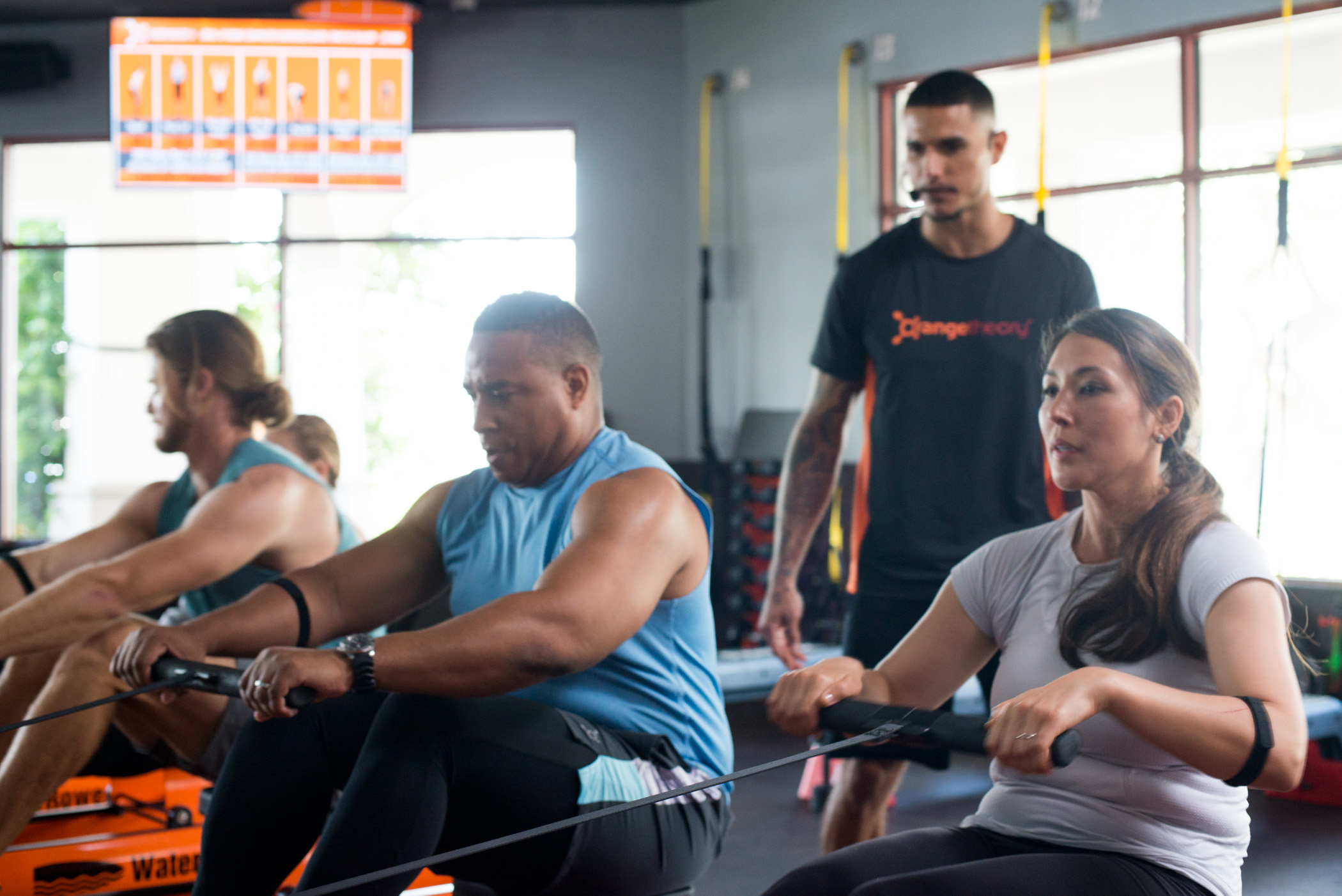 Halfway There and Rowing Like There's No Tomorrow
It's not uncommon to feel a little uncertain at the beginning of something new—but you'll soon find a sense of comfort in the discomfort, knowing that every push is worth the gains.
OTF members will earn a passport stamp for China at 15,507 meters into their Orange Voyage fitness challenge.
A point like this will be your perfect opportunity to take a look at the big picture: where have you been and where are you headed? Are you happy with your pace? Is it time to push a little harder and get even more out of your journey? These aren't questions you'll have to answer on your own! Your coaches will be there for you through it all.
The rowing and other elements of our workout won't get easier, but you will get stronger. The world will be yours for the taking!
Goal-Getter
For those members who row through their entire Orange Voyage passport, they'll rack up over 28,900 meters in total distance for the month. Talk about an accomplishment! Orangetheory members gain incredible experience through each fitness challenge—and through every workout along the course of their fitness journey.
Some day you'll be reflecting on Day 1 at Orangetheory here in New Orleans Downtown or Day 1 of a fitness challenge here at our studio. You'll constantly be moving forward, gaining endurance, strength, and power—on the rower, in the rest of the workout, and in your life outside the studio.
Does life look different on this side of victory? What can you do today that you couldn't before? What can you say about yourself now that wasn't true before? What will life look like after the next fitness challenge? How about a year from now? In five years?
We may not see the small, gradual gains as our journey progresses, but when we look back across tens of thousands of meters (and more), all the work we do will really add up!
Along the way, you'll earn splat points (for each minute spent in the target heart-rate zone), burn some serious calories, and gain a supportive fitness community you'll call family and friends. And we'll be here to celebrate every amazing accomplishment with you!
Fitness challenges like our Orange Voyage will plant a seed of wanderlust in you, so you'll be planning and looking forward to every upcoming Orangetheory New Orleans Downtown challenge. More than just challenging, they're a lot of fun. We can't wait!
Oh, the Places You'll Row!
At Orangetheory Fitness, the life-changing one-hour workout coming to New Orleans Downtown, LA, we scientifically design our workouts—a different one every day—to continuously challenge you and push you to be your best. We want to make sure that anyone who tries it feels successful and knows there's a world of opportunities out there. You are capable of anything and everything you put your mind to! Our unquittable workout helps you get more out of life.